Helping OP bank stand out from the competition with a unique in-branch customer experience
30 November 2022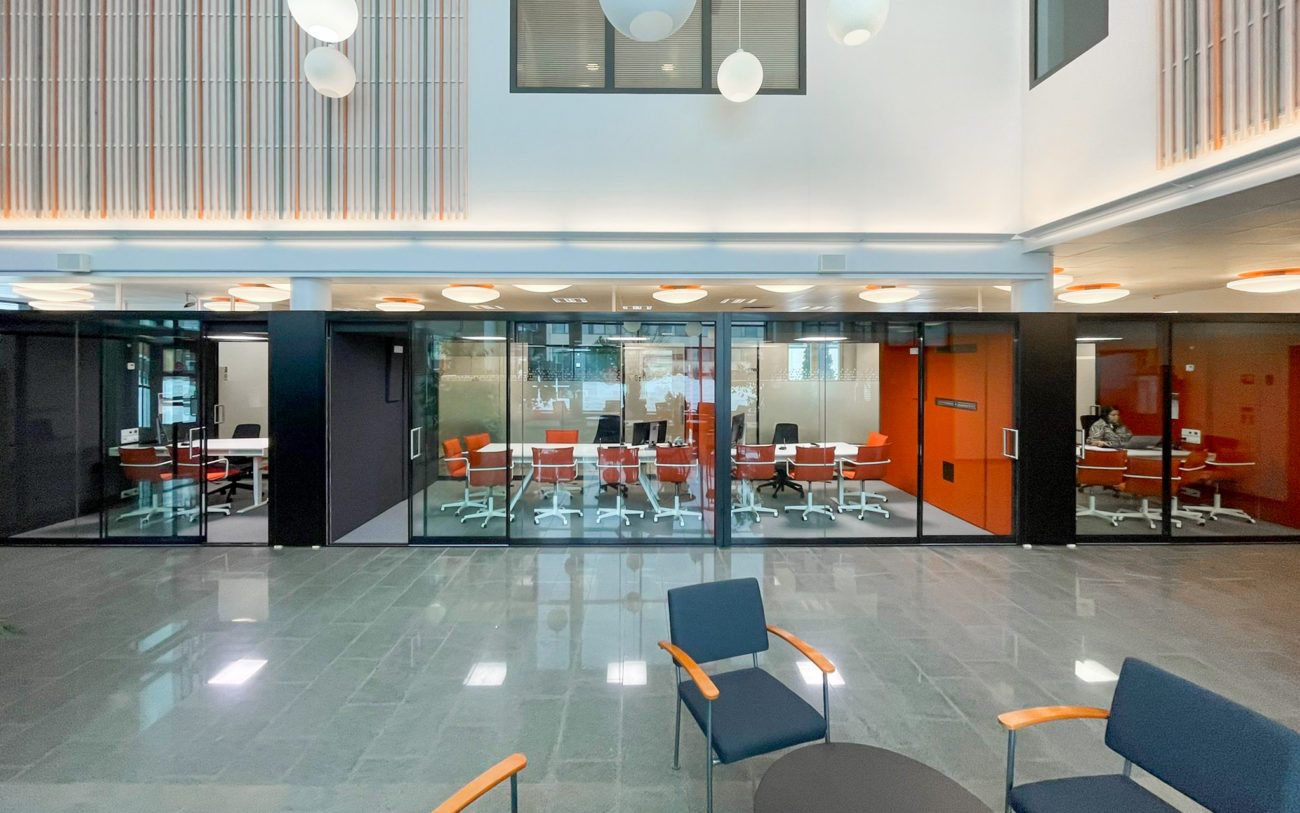 The Nakkila branch of Osuuspankki in southwest Finland today boasts a modern, comfortable, and flexible environment for customers and employees alike. The VETROSPACE meeting pods in its new interior are helping the bank to boost business and stand out from the competition with a unique in-branch customer experience that is drawing people in and enhancing employee wellbeing
Built in 2004, the building housing the Nakkila branch of Osuuspankki, part of OP Financial Group, was ripe for an interior refresh. But short-term fixes were not on the mind of long-time branch manager Jussi Kuvaja and his architect Hannu Pietilä. "We knew we wanted to do something that would last a long time, that would help us be seen as a pioneer, and which would improve conditions for our both our customers and our employees," shares Jussi.
The bank is a key pillar of the community in Nakkila, with 15 employees helping around 13,000 customers with a variety of financial services. Jussi and Hannu had done their homework and knew that meeting pods held the answers to the bank's specific renovation needs. "As the building's original architect Hannu really understood what we needed and the challenges we might face with the building's structure," Jussi explains. "Above all else we needed flexibility with the layout, excellent soundproofing to help keep conversations private, and spaces that could have two entrances – one for employees and one for customers. We were also working on a tight timetable so we needed a partner who could match our expectations in that respect."
A factory visit seals the deal
With such a wide variety of options on offer, Jussi took to the road to meet potential suppliers and visit other OP branches that had pods installed. It was a visit to the VETROSPACE factory that sealed the deal. Jukka Nummi, Global Sales at VETROSPACE, picks up the story: "Our meeting pod solutions were already included in the OP office design guidelines, but of course we wanted to meet with Jussi to discuss his specific needs. Once he visited our manufacturing facility and saw how passionate our people were about their work he was convinced we were the right partner for the renovation project."
Jukka continues by highlighting the critical importance of privacy in bank branches. "People need to feel secure when discussing financial matters – our pods offer the best soundproofing in the business, so customers at Nakkila can be sure none of their words can be heard outside the walls of the pod." Especially after the recent pandemic, hygiene is a critical concern too. "Unlike in a private office, at a public bank you have no control over who your visitors are so maintaining hygiene is very important. Our pods include smart ventilation to filter out impurities and harmful particles, plus antimicrobial lighting that takes care of harmful microbes without the need for any chemicals."
Three weeks from start to finish
Jussi appreciated the fact that VETROSPACE were able to be involved right from the start at the planning phase and could meet his tight timetable for the renovation. Meticulous planning work involving Jussi, Hannu and the VETROSPACE team laid the foundations for a smooth installation phase.
"We had everything ready to go for Jussi and Hannu – including layout drawings and specifications for materials and networking – to make things as easy as possible for them," Jukka points out. "The nature of our solutions mean they can be installed with minimal disruption, so the bank could remain open while we were installing the pods."
"Closing completely simply wasn't an option for us since many of our customers rely on the fact that they can take care of their financial matters in person rather than online," explains Jussi. "Thanks to the plug-and-play nature of the VETROSPACE solution there was minimal disruption and the renovation took only three weeks from start to finish."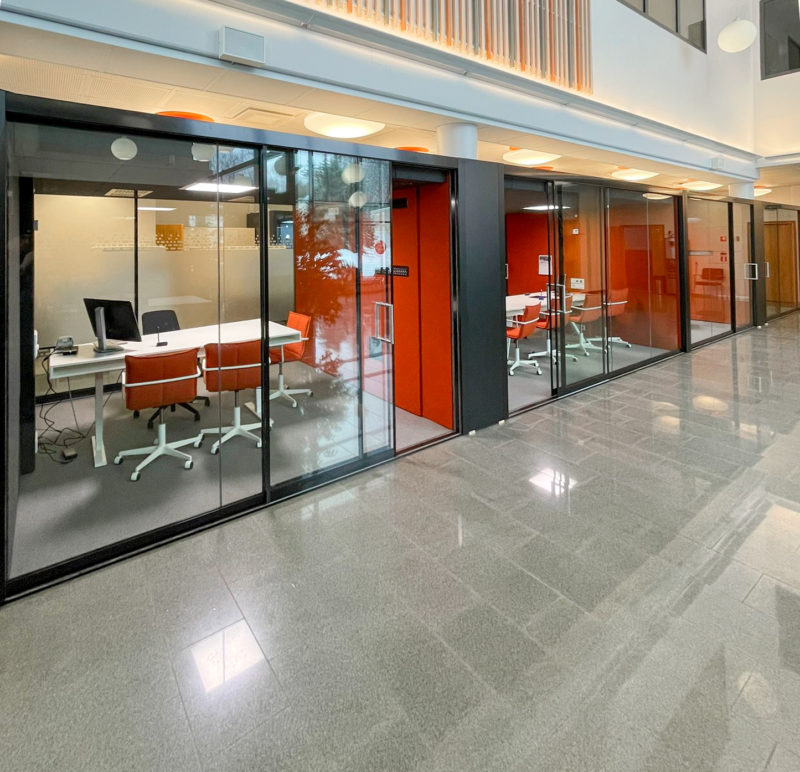 Welcome back with a splash of color
Nakkila OP is now home to six VETROSPACE XXL and XL pods – the largest models available. Five of them are used for customer interactions and one as a back-office space for staff to work in.
Arranged in a row, the pods neatly separate the bank's front of house space from the back office, preventing noise transfer from one side to the other. Their exceptionally flexible interior options have helped Jussi to move away from the muted color pallets traditionally seen in banks. "In this business we tend to stick to grays, blacks, and browns, but with this renovation I wanted to add some color with our corporate orange and other shades. VETROSPACE gave us the flexibility to do just that."
The feedback from customers and employees has been overwhelmingly positive. "The feeling of space, privacy, and comfort is something that everyone is benefiting from. Meeting our customers face to face is a very important part of the customer experience, and now we have a fantastic space to work and do business," Jussi says.
He also highlights that this kind of renovation is a way to show that, despite the availability of digital banking services, the bricks-and-mortar branch is still an essential part of the high street. "Our employees need to see each other face to face and our customers really appreciate the human touch, especially when dealing with sensitive matters like estates or mortgages. With these pods we have made our branch an exceptional place for our customers and a safe and comfortable working environment for our employees."